The Friends Emblem is an adult recognition program designed to recognize outstanding contributions to the spiritual and social development of Young Friends through Scouting/Guiding and active involvement in the life of the Religious Society of Friends.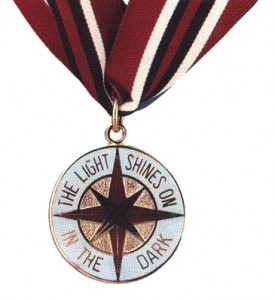 The Friends Emblem may be presented to any adult working with Scouts/Guides who is a recorded member or attender of the Religious Society of Friends or to adults of other faiths rendering service to Young Friends through these programs.
Individuals and local Monthly Meetings and Friends Churches are encouraged to nominate worthy Friends for this award.
Download the materials here:
The award is approved for wear on the Boy Scouts of America and Girl Scouts USA uniforms. It is not officially approved for wear on the Scouts Canada or Girl Guides of Canada uniform.  Nevertheless, Scouts Canada does not object to the wearing of this award.