The Friends Emblem is an adult recognition program designed to recognize outstanding contributions to the spiritual and social development of Young Friends through Scouting/Guiding and active involvement in the life of the Religious Society of Friends.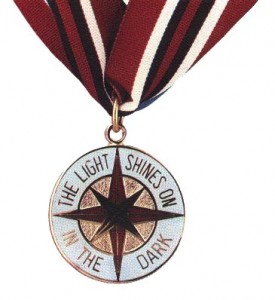 The Friends Emblem may be presented to any adult registered with Scouts/Guides and is a recorded member of the Religious Society of Friends.
While this recognition was originally developed for adults working with Scouts in the United States, it is now available for presentation to adults working with Scouts/Guides worldwide.
Individuals and local Monthly Meetings and Friends Churches are encouraged to nominate worthy Friends for this recognition.
NOTE: Self nominations are not accepted nor are nominations from spouses or family members accepted.
Download the materials here:
Price & Contact Details
Effective June 11, 2016: Order the 'Friends Emblem' adult recognition directly from Friends Committee on Scouting. Postage is $5.00 for orders shipped to U.S. addresses, for International orders the Clerk will notify nominator of the shipping costs upon approval. Currently checks and money orders are accepted, made payable to 'Friends Committee on Scouting.' Mail nomination form and ALL supplemental documentation (see Nomination Packet for details) to: Friends Committee on Scouting, 7140 East Buddy Lane, Camby, IN 46113 OR email to the Clerk at: [email protected] Questions should be directed to the Clerk. Nominators will be notified when the nomination has been approved and will then send in the appropriate fees. The recognition consists of the medal on a neck ribbon and a certificate, which will be shipped to the nominator within two business days after receipt of payment.
The recognition is approved for wear with the Boy Scouts of America and Girl Scouts USA uniforms. It is not officially approved for wear with the Scouts Canada, Girl Guides of Canada or any other international Scouting/Guiding uniform.  Nevertheless, Scouts Canada does not object to the wearing of this recognition.